Frequently Asked Questions
Below are some of the most frequently asked questions regarding Honor Flight San Antonio (HFSA).
Who is eligible to apply for an Honor Flight?
Veterans who have served during war time are eligible to apply with HFSA.
WORLD WAR II – All campaigns – 7 Dec. 1941 to 2 Mar. 1946

AMERICAN MERCHANT MARINES – In oceangoing service during the period of armed conflict, 7 Dec. 1941 to 15 Aug. 1945

KOREAN WAR – 27 June 1950 to – 27 July 1954 (eligible for the Korean Service Medal)

VIETNAM WAR – 28 Feb. 1961 to 7 May 1975
Can my spouse or significant other go with me?
No. At the present time, we over a hundred veterans on our waiting list and many more who will apply this year. The only spouses who are permitted to go are those who are veterans themselves.
I am the widow of a veteran. Can I go?
Sadly, the answer is "no." Again, we simply do not have the resources, funding, or seating available to transport all the veterans who are presently on our waiting list.
How much does it cost? How much money do I need to bring?
The cost is FREE for World War II, terminally ill veterans, and Korean War veterans. You do not need to bring any money, unless you intend to purchase souvenirs.
Guardians are requested to make a donation, of $500, to cover part of their expenses on the trip.
How do you decide which veterans get to go?
Veterans are flown on a "first-come, first-served basis". Top priority is currently given to World War II veterans and veterans with terminal illness. Our second priority is to Korean War veterans and then Vietnam War veterans.
Are terminally veterans given any special priority?
YES! Such veterans go to the top of the list for the next flight.
Do I need to bring a wheelchair?
No, HFSA well see to it that wheelchairs will be available for the veterans to use during the trip.
Are there any stairs to climb?
Yes, there are a few, including getting on and off tour buses, but we can help you.
How are you funded?
Our funding is provided through donations from individuals and companies who recognize the great accomplishments and sacrifices of veterans
Is a "Real ID" required for air travel?
Beginning October 1, 2021 and beyond, please be aware that TSA will require all travelers to have an ID that meets "real ID" requirements in order to pass through airport security to board the aircraft. If you use a current passport or Military Retiree ID card to board the aircraft, they currently meet TSA's ID requirements. Please note: VA medical cards do not meet TSA requirements. For complete information on Real ID Requirements please click on the following link.
Are there any special requirements to serve as a Guardian?
Yes, we've established locally that all Guardians must be 69 years of age or younger, able bodied, and in good health to endure the rigors of the two-day trip while supporting their assigned veteran.  Family members who are caregivers – certified as those that fulfill ALL the 'Activities of Daily Living" requirements of a veteran – may travel as their guardians.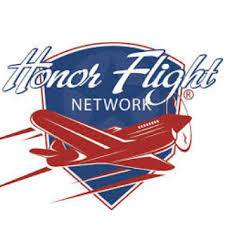 "A Veteran is someone who at some point in their life signed a blank check made payable to the 'United States of America' for any amount up to and including their life."