Frequently Asked Questions
Can my wife (husband) go with me?
Unfortunately, no. At the present time, there are over 30,000 WWII, Korea and Vietnam Era veterans on our national waiting list and thousands more who will apply. The sad reality is it is unlikely we will get to every deserving veteran in time due to the frailties and uncertainty of life. Adding non-veteran spouses to our waiting list would increase the waiting list and create additional delays preventing us from honoring the service of the veterans, our primary mission focus. The only spouses that are permitted to go are those who are veterans themselves (of the same era as their spouse).
I am the widow of a WWII Veteran. Can I go?
Sadly, the answer is "no". Again, we simply do not have the resources (funding or seating) available to transport all the WWII, cold-War, Korea & Vietnam ERA veterans who are presently on our Honor Flight San Antonio waiting list. Adding spouses and widows simply isn't an option for our program for the foreseeable future.
How much does it cost? How much money do I need to bring?
There is no cost for those veterans travelling on their honor flight. However, there is a cost for anyone travelling as a guardian, even if they are technically a veteran. Veterans flying on their honor flight do not need to bring any money, unless they intend to purchase souvenirs.
Can my son, daughter, grandson, etc. go as a guardian?
Yes. Our TOP priority is the safe travel of ALL our veterans. Our normal ratio is 1 veteran to 1 guardian. However, we are constantly reviewing the feasibility of expanding to a 2:1 (Veteran:Guardian) ratio, based on mobility and capability of all travelers and conditions. Who will or will not serve as a guardian, and how many guardians will be needed is the sole responsibility and discretion of the Honor Flight San Antonio's Executive Director and Chairman based on inputs from senior support team members (i.e. safety, medical, etc.).
As a Veteran, do I have to provide my own guardian for an Honor Flight?
Absolutely NOT, we have a group of trained volunteers ready to be your guardian!
Are there any special requirements to serve as a Guardian?
Yes, we've established locally that all Guardians must be 69 years of age or younger, able bodied, and in good health to endure the rigors of the two-day trip while supporting their assigned veteran.
Can I make a donation to Honor Flight?
Honor Flight gratefully accepts donations from anyone, EXCEPT veterans (until after they have taken an Honor Flight). We feel that veterans have given enough. This is our way of saying "Thank you"!
How do you decide which veterans get to go?
Veterans are flown on a "first-come, first-served basis (determined by the application's receipt date) and their priority status. At present, priority is given to WWII era veterans and all other veterans with terminal illness. Our second priority is to Korean War era veterans, followed by Vietnam era veterans.
How are you funded?
Our funding comes primarily from businesses and individuals who recognize the great accomplishments and sacrifices of our nation's veterans and who want them to see their memorial before it's too late. Other significant contributors will include fraternal organizations like the local American Legion and VFW along with local schools.
What if the veteran is on oxygen or will need a wheelchair?
WHEELCHAIRS — we provide wheelchairs for all veterans to use as required. If we have veterans who are wheelchair bound we utilize buses equipped with wheelchair lifts.
OXYGEN — If the veteran requires oxygen, a prescription for the oxygen must be provided by the veteran's healthcare provider, identifying the delivery method (mask or nasal cannula), frequency (as needed or continuously), and the rate of delivery (2-3 liters per minute). Veterans on oxygen are required to have oxygen cylinders (or concentrator) available from their home to the departure airport and also on the return from their local airport back to their homes. No oxygen cylinders are permitted to be used on the aircraft. If the veteran requires oxygen during the trip, please call us at to discuss arrangements.
What if I take medication or have minor medical problems?
We understand that our veterans may need special attention while away from home. First, we review the medical information provided in the veteran application. We travel with a medical team who's there for the safety of our travelers and ready to respond should a situation arise. However, it is worth noting that they are not there to provide daily personal/medical care. The guardians are trained to observe our Veterans and immediately contact our medical staff should any situation arise.
Are terminally ill Veterans given any special priority?
YES! Veterans with a diagnosed terminal illness go to the top of the list for the next flight departing to Washington DC. Any terminally ill veteran, from any conflict, who has never been able to visit their memorial are given the same priority.
Who is in charge of the program?
Throughout the United States there are Hubs that operate as part of a partnership called the Honor Flight Network. This governing body establishes general protocols, policies, credentialing, and maintains a national website and oversight of several programs.
Are the trips only for veterans who were in combat?
Absolutely not. We desire to honor anyone who served in the U.S. armed services during World War II, Korea or Vietnam eras. You do not have to have been in combat to qualify. (Approximately 1 of 11 veterans saw combat in WWII, Korea and Vietnam).
Is a "Real ID" required for air travel?
Beginning October 1, 2020 and beyond, please be aware that TSA will require all travelers to have an ID that meets "real ID" requirements in order to pass through airport security to board the aircraft. If you use a current passport or Military Retiree ID card to board the aircraft, they currently meet TSA's ID requirements. Please note: VA medical cards do not meet TSA requirements. For complete information on Real ID Requirements please click on the following link.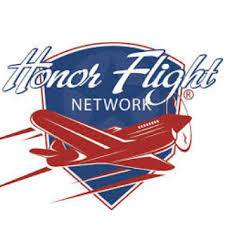 "A Veteran is someone who at some point in their life signed a blank check made payable to the 'United States of America' for any amount up to and including their life."